"Win the Dusty 8" is a quest in RAGE given to the protagonist by Jackie Weeks in Wellspring. It is available after completing the quest "Dusty 8 Sponsorship".
Summary
[
]
I hope you can drive as well as you shoot.
I see you earned your Sponsorship Letter. It's been a long time since JK had a driver in the Dusty 8 Sponsored Event. Now go see Slim, and good luck to you.
Objectives
[
]
Win the Dusty 8 Sponsored Event
Walkthrough
[
]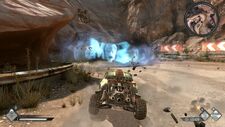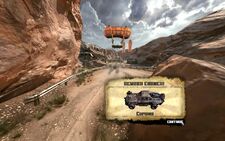 After you show the Sponsorship Letter (a.k.a Certificate of Sponsorship) to Jackie Weeks at Wellspring Speedway entrance, this mission will be available. Go see Slim and choose the new "Sponsorship Event" race type, and you will be taken to the Dusty 8 race track. It's possible that you've already tried this track since it's where the "Beginner's Luck" races take place.
Beat the competitors and be the first after three laps. If you got into trouble, or just want to have some fun, spam the Mutant Bash TV quick-use item. (Note that the Dusty 8 Sponsored Event is the only opportunity to try this item, anyway.) Win the race, and go see Sheriff Black to complete the quest "Cuprino Needed" and pick up the "Resupply the Watch Tower". But before you leave the town, go see Starky since the "Starky's Challenge" mission is now available.
Notes
[
]
The "Murder & Mayhem" races will be available after you complete this mission.
If you haven't already, you'll get the Achievement/Trophy "Lead Foot" after you win the race.