| | | |
| --- | --- | --- |
| " | Even with its problems RAGE remains as one the best games ever ... and I have been able to go back and enjoy it five times over and counting. | " |
| | —Me, Nick | |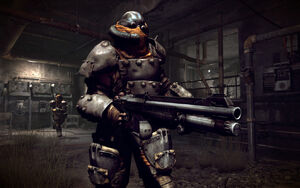 Hey people, I'm Nick. The Latin in my name is gibberish, please ignore it. I am a bureaucrat here, doing what I can. I'm always working to try to make The RAGE Wiki the best Wiki this side of Apophis, as my saying goes.
I have played through RAGE as of six times now on all four difficulties on the XBOX 360 version, which include an "Obsessive Compulsive" playthrough on Easy. I am currently trying to re-create these achievements on the PC. I'm very much looking forward to RAGE 2 as well, and I can't wait to see where the wiki goes, knowing how many people are excited for this franchise again! I know much about RAGE and if you ever need help with anything, I will gladly enlighten you. But please, why ask me when you have a bountiful source of information at your fingertips? We are not perfect, but if you see something that needs changing, just hit the little "Edit" button. :)
Goals
Getting the Wiki in tip-top shape for the RAGE 2 launch. We'll be seeing more people than ever visiting and joining our wiki, and it will be our responsibility to see that it's professional!
Remove all stubs from the Wiki - 15 as of December 31, 2016.
Make detailed pages on all of the smaller aspects of RAGE, such as themes and purchasable upgrades.
Finish all the articles for The Scorchers DLC. - A few more walkthroughs, a double checking of all the bonuses added in by The Scorchers, almost done.
Accolades
1,000 edits: April 6, 2012.
1,500 edits: May 25, 2012.
2,000 edits: August 23, 2012.
Made Bureaucrat: January 22, 2013.
3,000 edits: May 26, 2014.
Hope you guys enjoy the wiki as much as I do, and happy raging!