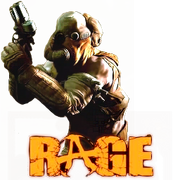 Hello and welcome to my profile on the RAGE Wiki. I am AmetureRhythms, but I prefer Berserker. As admin on the wiki, I visit very often (every day) to make sure that there is no vandilism. Additionally, I never leave without making a few changes to the articles.
For anyone who wants to play games like RAGE, my XONE Gamertag is Apollo9289 (Berserker1137 for any PSN users, and BerserkerEst2014 on Steam). I also have reviews for both DLC's, a 3-Part RAGE 2 miniseries, and a fan fiction series know as RAGE: After Apophis (Issue #2: The Ghosts out now!). Enjoy, and remember: if you find something thats not covered here on the wiki, feel free to message me (or add it in yourself!).
Goals
[
]
Cover all new RAGE 2 developments. 
Clean up all of The Scorchers DLC articles (add images, walkthroughs, etc.).
Add quotes to the Characters articles. 
Reviews, Updates, Help, etc.
[
]
My blog includes...
For help you may not find on the wiki, feel free to message me at any time (I will respond anytime between 1 to 3 hours).