"Ticket to Oasis" is a quest in RAGE, and is part of The Scorchers job path. It is given to the protagonist by Clive in "Jackpots", after completing "A Big Gamble".
Summary
[
]
Look I'm screwed either way. Find me a way out or deal with Firestorm on your own. I suggest you talk to J.K. Stiles about his latest promotion.
Finish J.K. Stiles' latest contest and get the ticket to Oasis.
Objectives
[
]
Complete Mutant Bash Canyon alive to the win the ticket to Oasis.

Head over to Mutant Bash Studio.
Talk to JK Stiles about the ticket to Oasis.
Return to Jackpots and give Clive the ticket to Oasis.
Walkthrough
[
]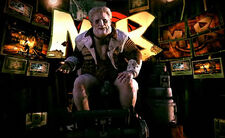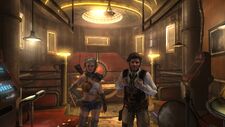 In order to start the mission, you will need to have already completed the first episode of Mutant Bash TV. See Mutant Bash TV (Quest) for a walkthrough.
From Wellspring, head West to the highway. Follow your marker until you reach Mutant Bash TV. Once your there, engage in conversation with J.K. Stiles. Travel to Bash Canyon, once the option is available, and complete the quest "Mutant Bash Canyon". Once you've done that, J.K. Stiles will give you the ticket, and you can return to "Jackpots".
Speak to Clive or Sarah once more and the quest will end.
Notes
[
]
As long as this quest is active, you will be unable to do The Re-Run.