"Renting a Garage" is a quest in RAGE given to the protagonist by Mayor Clayton in Wellspring. It is available after completing the quest "Changing Clothes".
Summary
[
]
You need a place to park your vehicles.
Once you've seen Mick, go visit Sheriff Black upstairs in the Jail.
Objectives
[
]
Rent space for your vehicles from Mick in the Garage

Find the Garage in Wellspring
Rent garage space from Mick
Locate the Sheriff's Office
Meet Sheriff Black
Walkthrough
[
]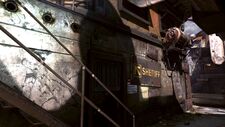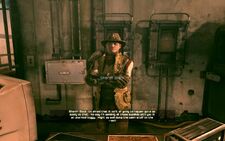 The Mayor seems to be satisfied with your new look and is glad to inform you that Sheriff Black is done with preparing the supplies for Dan Hagar. Also, he has a task for you: to rent some garage space for your vehicles.
Head out of the office and cross the courtyard to see the mechanic. Mick's quite enthusiastic with the prospect of the future cooperation and offers you a rather interesting deal (and, if you have the Anarchy / Campaign Edition, a possibility to change your Dune Buster for the Rat Rod). Well, it seems that now is the right time to meet the local Sheriff. Leave the garage and head straight ahead. Take a left at Hunter's whereabouts then head past Dylan, Austin and Theodore who are chatting to each other. It's up some stairs, with a pretty big sign, and should be hard to miss.
The conversations with the Mayor and Mick were easy, but this one will be different. The Sheriff won't let you just pick up the supplies and leave to the Hagar Settlement without arming your buggy first. At this point you might be willing to have something to kick the enemy vehicles off your way as well, so accept the quest "Arming Your Buggy" and continue with it.
Notes
[
]
When at Mayor's Office, don't forget to take the Vault Boy Bobblehead from the Mayor's desk, if you haven't already.