Featured article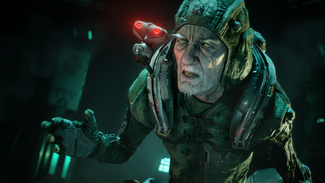 Doctor Antonin Kvasir is a character featured in RAGE and RAGE 2. He is an old man living alone out in the wastes, specifically Kvasir's Chasm. He hides himself away in his home in one of the emerged Arks, surrounded by unusual traps of his own design, conducting his experiments. He seems to have an obsession about the 99942 Apophis, having numerous fragments of it scattered around his lab.
Nicholas Raine encounters him after being sent to his lab during the quest "Feltrite Sample" with a sample of Feltrite modified by the Shrouded. Kvasir discusses a few details of his past with the Authority working as a scientist for them on their mutant experiments.
Kvasir returns in RAGE 2, now as an older man. He sends Walker to the Eden Space Center to recall Eco-15 from orbit. His further role in the game's narrative is unknown at this time.
Did you know…

…that the name of the player character in

RAGE 2

is

Walker

?

…that RAGE 2 was announced on May 14, 2018 by Bethesda Softworks and is currently slated for a 2019 release?

…that the Authority, Bandits, Mutants, and many other enemies and gameplay elements will be returning in the sequel?

…there are 54 different cards you can collect to use in the minigame "Rage Frenzy"?

…that the "Arks" were shelters made to help selected people survive the impact of the asteroid 99942 "Apophis"?

…RAGE is set in a post-apocalyptic version of a wasteland created by an asteroid impact, based on the real-life asteroid 99942 "Apophis"?

…that the Cult of the Death God is a Bandit faction in RAGE 2 that worships Nicholas Raine?

…that mutants, unlike normal human enemies, disintegrate a few seconds after they are killed?

…that the Resistance is a group of people who oppose the Authority?

Poll

How long did you take to finish Rage?

 
Helping out
All pages can be edited and you are welcome to
join us
and contribute to this wiki. Everyone is free to create a new page or edit an
existing one
. If you have any questions about the wiki or helping out, you can ask one of the
administrators
.
RAGE News
Crear nueva entrada
Latest News
id Software boss Tim Willits has confirmed that RAGE 2 will NOT include loot boxes. This announcement comes in the aftermath of a storm of criticism leveled at full-priced games that included loot box elements, notably Battlefront II.

That said, RAGE 2 will feature some live-service elements, though Willi…

Leer más >

Hey there, FANDOM User! Welcome to the RAGE Wiki! It's great to have you.

As you can see, this Wiki is a lush, vibrant hub for all things you need to know about the original RAGE and its gameplay elements. If you need to know how to make the most badass Vehicle, we got you. If you want to go for the …

Leer más >

















Hello, everyone!

I have returned from the depths of my slumber to announce that RAGE 2 is officially under development by developer Avalanche Studios!

While it's not the follow-up id Software has been hinting at, Bethesda, as it does with many of its properties, has revived the RAGE brand, seven years a…

Leer más >
Ver más >
More news…