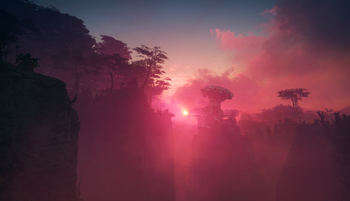 The Wilds
is a
region
in
RAGE 2
.
A labyrinth of jungle life that has been torn apart by a crazed goldrush centred around untouched old-world technology. Miners and wasteland hopefuls operate unchallenged in a vibrant miasma of opportunity.
The EcoPods had a serious malfunction when they terraformed this region, leaving behind the monstrously overgrown flora of the Wild. Lofty treetop canopies keep much of the area covered in shade, and massive exposed roots provide unique opportunities for traversal and tactical combat.
Known factions in region
Edit
Locations
Edit
Towns
Arks
Community content is available under
CC-BY-SA
unless otherwise noted.