'RAGE 2' – Official E3 Gameplay Feature

Rage 2 (stylized as RAGE 2) is a post-apocalyptic open world first-person shooter in development by Avalanche Studios with (creative) oversight of Id Software. It was announced by Bethesda Softworks on May 14, 2018 as a sequel to the first sci-fi first-person shooter racing game RAGE, released in October 2011.
RAGE 2 is available on PC, PlayStation 4 and Xbox One and released on May 14, 2019. On June 6th, 2019, Google announced RAGE 2 is available via the cloud Gaming through Stadia. It was announced on May 15, 2018 that the game's pre-order bonuses include a unique mission called "Cult of the Death God", the "Settlers Pistol" from the original RAGE, the Nicholas Raine Armor, and a Monster Truck skin for use within the game.
The game is set in 2165, thirty years after the events of the first game. Humanity has found a way to heal the world, turning regions of the Wasteland into lush jungles, wetlands and even tundra.[1] Trade is growing and a type of "Wild West" society is emerging.[2] The brutal ways of the old world still remain, however, and these new, delicate biomes are under attack by gangs that want to control their resources. The Authority has returned, waging war against anyone who won't follow their rule.[1]
The player assumes the role of Walker, one of the last Rangers in the Wasteland. After being robbed by the Authority, (the primary antagonists of the first game), Walker tears through the Wasteland to seek vengeance and to ultimately end the Authority's oppression.
Some characters from the original RAGE will also return, such as Antonin Kvasir, Loosum Hagar and John Marshall.[3]
* Note: There is an after-credit scene.
Walker's home gets stormed and a strong woman gets killed and leaves a pre recorded holotape asking Walker to adventure. After travelling the Wasteland. Walker accepts a mission from 3 different power figures. They go back to them and afterwards have to do side missions across the wastleland to get each power figure to level 5. Afterwards Walker has to do an additional mission for each power figure and once that is done they storm the base in a tank and kill the antagonist who is guarded by a colossal titan. Walker is wounded but he or she gets saved by their friend from the start of the game as the enemy base is exploding.
Many elements return from the first RAGE, including Vehicle Combat, Wingsticks and Mutants. Many of these elements have evolved between games; the Wingstick now has an enhanced tracking ability, and vehicles can be repaired and customized to a greater extent.
The Wasteland is a big place. You can take an airboat ride across the swamplands, explore a city that's been overtaken by vegetation, head into the deadly chasm known as "The Crack," and even venture through mutant-infested sewers and high-tech Authority labs. Despite the vastness of the game world, RAGE 2 is completely free of load screens.
Development History and Rumors
Edit
Pre-Development
Edit
Prior to the announcement of the official game by Bethesda, there were many words that there may or may not be a sequel from information from many different sources.
In an interview with IGN, co-founder John Carmack stated that he plans to do a sequel to RAGE after Doom 4 ships. "We're about to roll the whole core tech team over to Doom", Carmack said, when asked what lessons the studio learned from developing RAGE. "After Rage certifies, the heavily-lifting code team will be migrating over to do new systems [for the Doom team]."
"Building up the new team has been challenging to bring that many new people in and bring them up to speed," he added. "We're going to migrate more of the RAGE 2 team people, and then we're going to roll onto RAGE 2."[4]
In 2013, ZeniMax Media cancelled any and all projects related to RAGE 2 in order to "speed up progress on Doom 4." This could mean that we may not be seeing RAGE 2 for quite some time.
However, on August 4th, 2013, RAGE co-founder Tim Willits mentioned RAGE 2 is "Not Dead", explaining that "We're not doing anything immediately with it, but when I designed the universe, I designed it in such a way that it would be easy to step back into. I'm still proud that we did something that was different – it wasn't like the games that we've done in the past".
In an interview published on August 9th, 2016, vice president of Bethesda Softworks Pete Hines commented on the possibility of a sequel to both RAGE and The Evil Within. When asked about a potential RAGE 2, Hines said, "I do think both The Evil Within and Rage did well enough that we could make sequels". However, Hines also stated that the studio has a lot of games in their pipeline, so whether or not we'll be seeing RAGE 2 come to fruition is yet to be seen.
Active Development
Edit
RAGE 2 was pitched to Avalanche Studios by id Software. Avalanche had a free team available, and the two companies began working together. Avalanche is handling the majority of development, while Id provides combat, story, and art support. From the outset, Avalanche wanted to inject color into the game, to distinguish it from the "super brown" games that both studios had previously put out. An inspiration for the game came from 80s and 90s comic books. At the time, in Europe, a lot of post-apocalyptic comics in this period had a heavy use of color, which provided inspiration for the game's art design.[3]
On May 14th, 2018, a teaser trailer for RAGE 2 was leaked, followed by a longer, 1-minute clip of a live-action announcement trailer with some CGI, and a gameplay reveal planned for the following day, thus confirming the sequel's existence. On the same day, the German site of RAGE 2 ended up confirming the developers, which were unknown before, being Avalanche Studios as the lead developer, with id Software having (creative) oversight over a large part of the development. The story was revealed in the description of the gameplay trailer.
There will not be multiplayer in the traditional sense, but the game will have a "social component." The game will not have loot boxes.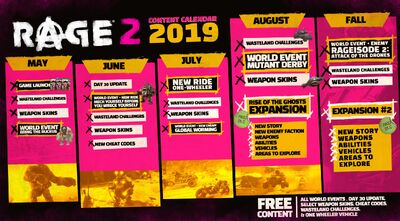 (30 year gap between the end of RAGE and where RAGE 2 starts)
There is an Easter egg in RAGE wherein, on one of the missions in Dead City Central, a poster can be seen with "50% less on Rage 2, Doom 5!" on it.
In an interview with John Carmack, he said that he was "very excited with what he's doing with RAGE 2".

John Carmack left id Software in 2013, in order to pursue virtual reality. It is unknown how big of a role Carmack played in the development of RAGE 2, but this may have had a permanent effect on the release of the game.

ZeniMax Media, the owner of id Software, halted development of RAGE 2 in April 2014, ordering id to finish Doom. This game, however, was id Software's version of RAGE 2, and the current sequel in development is a project by id Software and Avalanche Studios.
RAGE 2 is being powered by Avalanche Studios' own engine (called Apex Engine), due to their involvement in the game's development.

The game is primarily being developed by Avalanche, with Id Software overseeing development.

Many leaks for the game's existence happened in the lead up to RAGE 2's announcement. Wal-mart's website accidentally leaked a listing for the game a few days before the official announcement (see below), as did RAGE 2's German site, also revealing Avalanche Studios would be co-developing the project.
RAGE is short for "garage".[5]
There is no swimming in RAGE 2 because Id Software Studio Direct Tim Willits hates swimming in video games.[5]
Did you know...
System Requirements
Edit
OS: Windows 7, 8.1 or 10 (64-bit)
CPU: Intel Core i5-3570 / AMD Ryzen 3 1300X
RAM: 8 GB
HDD: 50 GB free disk space
Graphics: Nvidia GTX 780 3GB / AMD R9 280 3GB
Recommended
Edit
OS: Windows 7, 8.1 or 10 (64-bit)
CPU: Intel Core i7-4770 / AMD Ryzen 5 1600X
RAM: 8 GB
HDD: 50 GB free disk space
Graphics: Nvidia GTX 1070 8GB / AMD Vega 56 8GB
References
Edit
↑ Game Informer #109: A Storm of Neon, Bullets and Blood
↑ 5.0 5.1 122 Rapid-Fire Questions About Rage 2 https://www.youtube.com/watch?v=Z-DHA_ZLuAk
6. RAGE 2 Review:
https://globaltechgadgets.com/rage-2-review-fast-and-chaotic/
Navigation for Rage 2
| | | |
| --- | --- | --- |
| World/NPC's | Gear/Items | Missions/Quests |
Community content is available under
CC-BY-SA
unless otherwise noted.