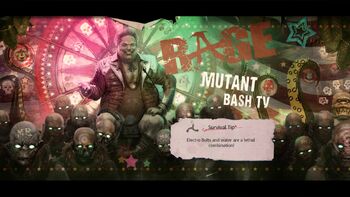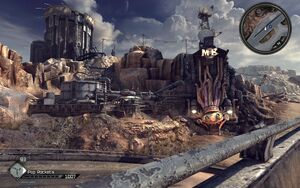 Mutant Bash TV is a location featured in RAGE and its sequel RAGE 2. It is a TV studio located in the Northern Wasteland, not far from Wellspring. The only program the studio produces is the Mutant Bash show hosted by J.K. Stiles. The show is very popular in the Wasteland. There are four arenas in the show to pass through, and the contestants are rewarded after each arena.
Nicholas Raine must star in the show — and survive — during the quests "Mutant Bash TV" and "The Re-Run", and it is also featured in Wasteland Legends.
The building consists of a lobby connected straight to the control center where J.K. Stiles is found, and the arenas area. There are four arenas, each has its own unique features. The arenas are connected by an elevator and a few corridors, and there are cameras all over the place. The music that plays in the arena is mainly unrecognizable carnival music and stadium style music.
Layout
Notes
Trivia
Gallery