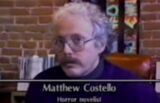 Matthew John Costello (born 1948, alternate names: Shane Christopher, Chris Blaine) is the author or co-author of numerous novels and nonfiction works. His articles have appeared in publications including the Los Angeles Times and Sports Illustrated. He scripted Trilobyte's bestselling CD-ROM interactive dramas The 7th Guest and its sequel The 11th Hour, as well as many other videogames.
Along with F. Paul Wilson, Costello created and scripted FTL Newsfeed, which ran daily on the Sci-Fi Channel from 1992–1996. His television credits also include shows on The Disney Channel, PBS, the BBC, and many others. In 2005 his novel "Beneath Still Waters" was adapted into a film by director Brian Yuzna.
His latest suspense novel, "Nowhere", was published in 2007. Costello also wrote "Island of the Skull" (Pocket Books), an original prequel to Peter Jackson's film, King Kong.
Costello's work for children include the book series "The Kids of Einstein Elementary", published by Scholastic, and "Magic Everywhere" (Random House), as well as games including Aladdin's Mathquest (Disney), A Cartoon History of the Universe (Putnam) and two math games based on the hit PBS show Cyberchase. He is designer of role-playing and board games, including Dungeons & Dragons, Call of Cthulhu, Batman, Lone Wolf & Cub, and many others.
Recently, Costello worked on RAGE, a post-apocalyptic action-adventure game for id Software, as well as a new game for Eidos with Neil Richards and Swedish developer Avalanche. His novel RAGE was published in August 2011.
External links
Edit
Community content is available under
CC-BY-SA
unless otherwise noted.