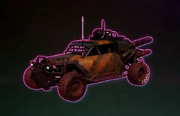 The Chazcar is a competitive racing car featured in RAGE 2.
Summary
[
]
Racing is one of the few things that unites people from all factions and alignments, so racing cars are commonly seen both on the tracks and on the roads.
Racing cars are built for only two things - speed and handling and are stripped to their bare bones. Fitted with 800 NM ft-lb torque feltrite engines to optimize acceleration, custom front and rear shocks, and custom-valved bump stops, to deal with any high jumps.
Not recommended to enter combat with!
Location
[
]