| | | |
| --- | --- | --- |
| " | We're counting on you. Get that toxin to me, or we're all as good as dead. | " |
| | —Carlson to Nicholas Raine | |
Carlson is a minor character featured in RAGE.
Biography
[
]
Background
[
]
Nothing is known of Carlson's early life. He is a resident of Wellspring, where he heads up operations at Wellmasters, the water pumping station. He appears dedicated to ensuring the community has access to clean, running water.
Events of RAGE

[

]
In 2135, when Nicholas Raine first arrives in Wellspring, the water pumping station is inaccessible. However, during the "Feltrite Sample" quest, Raine is sent out of town at the request of Mayor Clayton and upon his return he discovers the town alarm blaring. Either the Mayor or Sheriff Black asks Raine to investigate the Wellmasters and provide any necessary assistance to Carlson, initiating the quest "The Wellmaster."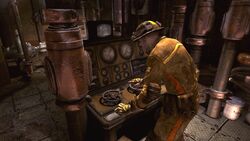 Upon meeting with Carlson, he informs Nicholas that members of the Ghosts have infiltrated the tunnels underneath Wellspring and intend on poisoning the town's water supply, thus starting the "Hijacked Well" quest. Nicholas is tasked with clearing out the tunnels of bandits and securing the main well.
Upon returning to Carlson with the toxin that was to be used to poison the water supply, Raine is next tasked with delivering the toxin to Doctor Anton Kvasir for him to study, beginning the "Deadly Delivery" quest.
Associated quests
[
]
Notes
[
]
While making his way through the tunnels beneath Wellspring, Nick discovers that most of Carlson's employees have been killed by the Ghosts. Only Jerry, an injured well-worker, is found alive in the tunnels, along with several armed guards.